Hello. And congratulations. I am delighted that you could make it. Getting here wasn't easy, I know. In fact, I suspect it was a little tougher than you realize. On my homepage, I greet you with a quote from the excellent science writer Bill Bryson's 'A Short History of Nearly Everything'. "For you to be here now trillions of drifting atoms had somehow to assemble in an intricate and curiously obliging matter to create you".
All right. Enough of the rocket science. I owe it to you to introduce myself.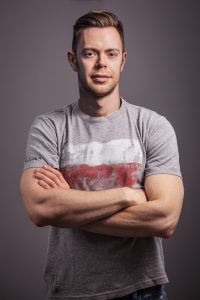 My name is Łukasz (yep, with the strange Polish first letter!). All my professional life is somehow linked to Polish language. I'm an author of articles, an editor and also a teacher of Polish language and culture for foreigners. You can also hire me as a consultant in the field of correct business language communication.
Journalist, editor and author of articles
I have been cooperating with various Polish media for over 15 years, initially as a picture editor, journalist and editor, and from 2013-2022 as deputy editor-in-chief and editor-in chief of the popular science magazine "Focus". I currently serve as head of digital National-Geographic.pl.
I specialize in tech, historical, travel and automotive topics. However, I particularly value interviews with fascinating people from around the world, some of those being, His Royal Highness the Prince of Liechtenstein, the illusionist Dynamo, Reinhold Messner – the man who made the first solo ascent of Mt. Everest and the linguist and philosopher Noam Chomsky.
My articles can also be read on the pages of "National Geographic Traveler Polska", "Mercedes-Benz magazyn", "Sekrety Nauki", and "Fit&Forma". You can find my portfolio here.
Teacher of Polish for foreigners
I graduated from the University of Warsaw with a Masters in International Relations in 2005, where I defended my thesis on Argentina. 7 years later, in 2012, I completed my postgraduate studies 'Teaching Polish as Foreign Language' from the University of Warsaw, with the highest level of attainment. I subsequently spent many years teaching Polish to individuals from all over the world. Among my students are people from five continents, including some cheerful children and teenagers. Please feel free to read their opinions about my lessons here.
I am fascinated by linguistics in general. The structure of language, grammar and etymology were always my points of interests. Knowing how Polish works, I am able to explain it easier to others. I also understand how important is to tailor personalized lessons; that is why I prepare a lot of exercises dedicated to my students' needs.
Between 2018 and 2020, I was mainly giving classes of Polish for foreigners students at Lazarski University in Warsaw. As a state examiner, I regularly take part in a certified exam confirming knowledge of Polish by foreigners.
Meanwhile, I help expats in Warsaw to develop their communication skills in Poland. For almost two years I worked as a private Polish language tutor for the American-born CEO and President of the Management Board at TVN, one of the leading media groups in Poland.
Business language consulting
As a long-time employee of a big company, I know how easy it is to use an incomprehensible newspeak when developing business documents. As part of the offer for companies, I do, among other things, a precise language audit, i.e. review and correction of websites, as well as documents, forms, correspondence, newsletters, etc. The most common errors that I find on websites mainly involved bad typography, punctuation and – sometimes – the logic of the message. Flawless and carefully constructed language is not only a showcase for a company, but also a clear message that the enterprise represents the highest standards in every area.
I also help in the writing and editing of advertorial articles.
I also offer specialized workshops and training in language and communication for employees who write documents addressed to both internal and external partners of the company. More information about the corporate offer can be found here.
After-hours
I am actually a language geek! Besides English (Oxford Online Placement Test C1 Advanced Level) and Latin (secondary school exit exam) I have been learning French and Spanish for years. I also studied Turkish for few months. This language really fascinates me – its regularity is almost unreal.
I love to travel. Every free moment I have, I spend on physical activity; I have been practicing tennis, crossfit and swimming for many years.
Finally, if you want to get to know me better, listen to my conversation with Gosia Zmaczyńska from "Radioactive Podcast".